Sunsethaze is a fictional, unrealistic-colored cat in a series called The Cats of the Seven Tribes.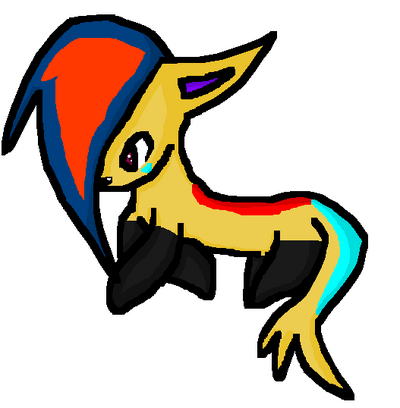 Personality
Edit
Sunsethaze is most of the time lonely, making his main personality trait sadness. However, when not lonely, he normally will act very cheerful and friendly.
Abilities
Edit
Sunsethaze is, as well as all the other characters, stronger then the average cat. He also has Telepathy, meaning he can send or recieve a message to another's mind without talking.
Appearance
Edit
Sunsethaze's main fur color is tan. The inside of his ears are purple. He has a red stripe on his back, going to his tail, and on his tail it's cyan. He has black feet. He has a cyan-colored upside-down triangle under his eye. He has an orange side parting hair, with the edges a darkish-blue color. His eyes are a dark magenta (AKA dark hot pink).
Sunsethaze was made by VortexOfAbsol on Scratch, who signed up to be in the series.
The blue streak on either side of his cheek is a stain in his fur. It was made by his tears.
Sunsethaze has an ear deformity which causes him to be deaf. But his telepathy causes his ears to not even be needed.